Description
This product is no longer available, we are no longer able to obtain quality wood in a timely manner and at an acceptable price.
The automatic chicken coop solar door with wooden frame made of spruce wood automatically closes your chicken coop after dark and opens it at sunrise.
Assembled in the Jura with a frame and front panel in three-ply spruce panels. The door panel is PVC.
Prerequisites for installing an automatic chicken coop solar door with wooden frame:
Your chicken coop must be in the sun from time to time, it needs 30 minutes of sunshine per day in good weather. (Not facing due North, nor just behind a tree or a house that would hide the sun all day). In case of bad weather, the life of the LIPO battery is 45 days.
If your chicken coop doorkeeper is always in the shade, choose a version with the remote solar cell.
Working principle of automatic solar chicken door:
The automatic chicken coop solar door with wooden frame works completely autonomously thanks to solar energy.
The solar cell is used to recharge the battery and to measure the luminosity in order to detect if it is daytime.
It is possible to shift the opening and closing time of the door, by default, it is 15 minutes after sunset and 15 minutes after sunrise.
A LIPO battery (same technology as in a smartphone) stores energy and restores it for 2 months of autonomy without sunlight.
Treatment of three-ply spruce wood:
Untreated wood will resist more than 5 years, but wood treatment will allow it to resist much longer.
We offer a linseed oil treatment as an option, because it is a natural product, non-toxic for hens and which has a repellent action against insects and parasites.
We recommend renewing the linseed oil treatment once a year.
Technological choices:
This automatic solar-powered chicken coop door was designed and manufactured by us in France, in the Jura.
-The structure is composed of natural spruce panels, three crossed multilayer wooden boards, for a total thickness of 4 cm, which protects your guillotine door from deformations due to humidity and temperature variations.
-Wide openings in the lower part allow various materials to be evacuated so as not to interfere with the proper functioning of the door.
-The design and the thickness of the wooden frame make it impossible for a predator to push the door up.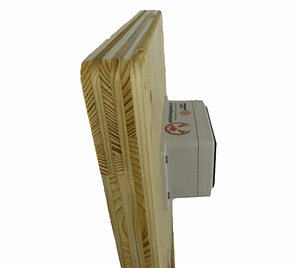 -A recyclable ABS case ensures robustness and tightness (IP 54).
– A touch button allows you to start a test cycle (closing and opening), as well as adjusting the travel of your door.
-A solar cell and a high capacity battery for complete autonomy of your system.
-Automatic brightness detection which allows closing to be adapted in real time to the time of sunset.
– A hardened steel pinion gearmotor.
-A safety device on the motor electronically avoids any risk of crushing (CE standard).
-A braided rope with a resistance of 68kg to guarantee its longevity.
-The aluminum braid coil is on the outside of the housing to keep moisture out.
Solar automatic chicken coop door dimensions:
Frame 27 x 68.5 x 3 cm (width x height x thickness)
Opening approx. 21 x 32 cm (width x height)
Module 13 x 9 x 4 cm (width x height x thickness)
Contents of the package:
An automatic chicken coop solar door with wooden frame, complete and pre-programmed.
The screws needed for assembly.
80cm of spare braid (the life of the braid is 4 to 6 years).
A 12-page color instruction manual.
Automatic door delivered assembled and programmed: only 8 screws to fit!
Optional: brackets to quickly fix your automatic door to a fence: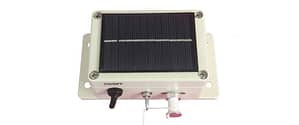 This automatic solar-powered chicken coop door in spruce wood complies with the Made in Jura – France charter
Download the complete user manual in pdf (12 color pages – 0.6 MB)