This automatic henhouse doorkeeper with mini groom and remote solar cell La Corlavoise automatically closes the door of your henhouse after dark and opens it in the morning.
The anticropoule adapts to all traditional doors (with hinges on the side).
Equipped with a solar cell in order to recharge the battery (included) and also to control the brightness.
Dimension of the gatekeeper, box of 13x9x5 cm (length x height coil included x depth).
Operating principle of the automatic henhouse with mini groom and remote solar cell La Corlavoise:
In the morning, when the brightness is sufficient, a gear motor releases the braid so that the door opens.
A mini door-closer (stainless steel return spring) opens the door and keeps the braid taut.
In the evening, more precisely after nightfall, the gear motor rewinds the wire until the door is closed and held on its stop.
It is possible to delay the time of opening and closing using jumpers on the printed circuit. This option is detailed in the user manual available at the bottom of this page.

Technological choices of the automatic chicken coop doorman with mini door-closer and remote solar cell:
First of all, this automatic chicken coop closing kit was designed and manufactured by us in the Jura.
The waterproof recyclable ABS case ensures a longer lifespan (IP 54).
A pre-assembled mini door-closer, based on a stainless steel spring, ensures the opening of the door and the tension of the braid.
The mini door-closer is made of recycled PET, it is the plastic that is used for plastic bottles. With a thickness of 6mm, it is perfectly resistant to UV, water and frost. Made from recycled material, it is recyclable.
Brightness detection adapts the closing and opening time to sunrise and sunset.
Geared motor with hardened steel pinions to greatly increase its lifespan.
Braided cord with a resistance of 68kg.
Possibility to delay the opening as well as the closing.
A touch button allows you to make the settings of the anti-cropoule as well as to start a test cycle.
An ON/OFF button allows you to deactivate the module, for example when you have chicks that are too small to go out.
The aluminum braid coil is outside the case so as not to allow moisture to enter.
Solar cell and high capacity LIPO battery (as in a Smartphone) guarantee for total autonomy.
Warranty:
The anticrocpoule solar doorman is guaranteed for parts and labor for 2 years. In addition, spare parts availability is 10 years.
A warranty extension of 5 years is possible.
Optional on our site: piton screws to deport the module if you run out of space.
– Photo of the printed circuit: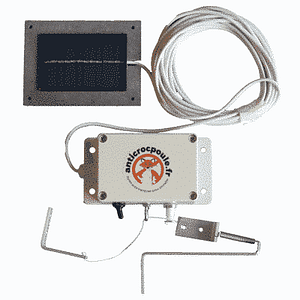 The remote solar cell option with its cable gland to guarantee watertightness:

This product meets the Made in Jura – France charter
Download the user manual in pdf (12 color pages – 0.6 MB)
Here is a video to help adjust the braid length according to the size of the door: