Description
Your automatic chicken coop door, automatically closes your chicken coop after dark and opens it at sunrise.
Assembled in the Jura, your large automatic chicken coop hatch has been designed to maximize its resistance to nighttime intrusions.
Requirements for your Terceira XL automatic solar hen house:
The solar cell of your automatic chicken coop door must be in the sun from time to time, it needs 30 minutes of sunshine per day in good weather.
It is the solar cell which is used to detect the luminosity, as the solar cell is deported, the automatic hatch can possibly work in the dark, inside the chicken coop.
If your automatic chicken coop door is placed on soft ground (earth), you may need to put a stopper at the bottom of the door, for example a small wooden slat (not supplied).
Principle of operation of the chicken coop automatic hatch:
Your chicken coop door works completely autonomously thanks to solar energy.
The solar cell is used to recharge the battery as well as to measure the luminosity in order to detect if it is daytime.
It is possible to shift the opening and closing time of the door, by default, it is 15 minutes after sunset and 15 minutes after sunrise.
A LIPO battery (same technology as in a smartphone) stores energy and restores it for 2 months of autonomy without sunlight.
Technological choices:
This automatic chicken coop door was designed and manufactured by us in France in the Jura.
Aluminum profile door guides.
Rigid and insulating panel 5mm thick in plastic allowing perfect resistance to UV and humidity.
Robust and waterproof recyclable ABS case for a longer lifespan (IP 54) .
Light detection to adapt the closing and opening time to sunrise and sunset.
Geared motor with hardened steel pinions for a very long life.
Braided cord with a resistance of 68kg.
Possibility to delay the opening as well as the closing.
A touch key is used to make adjustments and to start a test cycle.
The advantage of a tactile key is the perfect seal, unlike a switch.
An ON/OFF button allows you to deactivate the module, for example when you have chicks that are too small to go out.
The aluminum braid coil is outside the case so as not to allow moisture to enter.
Solar cell and high capacity LIPO battery (like in a Smartphone) for total autonomy.
A cable gland to guarantee the tightness and screws to put it in place.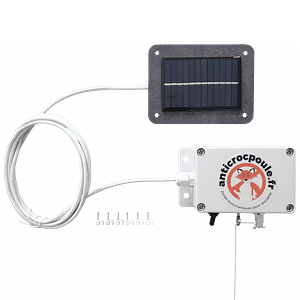 Dimensions of the chicken coop automatic hatch:
Opening dimensions 26 x 39 cm (width x height)
Rail length: 80 cm
Dimensions: 33 x 86 cm (width x height)
Dimension of the cutout to be made in the chicken coop: 27 cm wide and 40 cm high
Dimension of the gatekeeper, box of 13x9x5 cm (length x height coil included x depth).
Contents of the package:
A factory-programmed closing module (LIPO battery included).
Two drilled and chamfered aluminum slides
6 fixing screws.
The door 5 mm thick.
The 2m remote solar cell and its screws.
A 12-page color instruction manual with many photos.
Origin of the name "La

Terceira

":
Terceira in Portuguese means third.
This door is the third to be invented, it is also composed of three parts: the closing module, the aluminum tracks and the door panel.
I lived for 2 years in Terceira, an island in the Azores archipelago, the third largest, in the middle of the Atlantic.
Giving this name to a product is for me a way to remind how welcoming the Portuguese are and how beautiful this island is.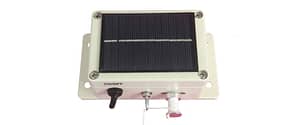 This automatic chicken coop door meets the Made in Jura – France charter
Download the user manual in pdf (12 color pages – 0.6 MB)
Help video to adjust the braid length according to the size of the door: